Truck Accident Lawyer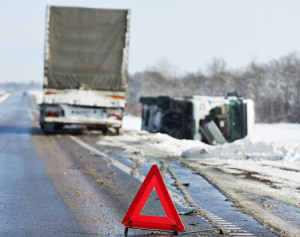 There is a reason why drivers try to steer clear of commercial trucks and feel their hearts race when they see one approaching in their rearview mirror while speeding down the highway. This is because an accident between a small car and a big rig is usually much more catastrophic than a typical, everyday accident. Unfortunately, most drivers behind the wheel of the smaller vehicle, along with any passengers, usually do not survive.
If you or someone you know has been involved in an accident with a commercial truck, you may be entitled to compensation from the commercial truck company. Many of these accidents occur due to negligence on the part of the company or the truck driver. If regular, proper maintenance is not performed on a company's fleet of trucks, they will be more prone to malfunctions while in transport such as popped tires or weak brakes that may damage private property or injure surrounding drivers.
Vehicle Accident Lawsuit
Some commercial truck companies are also known to work their truck drivers past hours of service limits or hire drivers that are not qualified to handle their large vehicles. By having their exhausted and unqualified truck drivers on the road, these companies are putting innocent drivers in danger.
As a victim of negligence on behalf of the commercial truck company or the driver him/herself, you are justified in seeking financial compensation for physical and emotional damage. Not to mention the cost to repair or replace your vehicle as well as any private property that may have been damaged during the accident. Borron Caballero Trial Lawyers specialize in handling cases such as these and fully representing your grievances.
Trucking Accident Attorney
Contact our Vehicle and Trucking Accident Attorneys at Borron Caballero Trial Lawyers immediately at (305) 667-1727 or click here to begin building your case with an attorney that will use his expertise to obtain the compensation you need. No other attorney in the business will put in the same amount of hard work and determination you seek to ensure that your claim is fulfilled.